Perhaps the toughest assignment of the year is to pick out the favorite productions of the year from among the  464 plays seen in our area.  We'd love to know which shows emerge as your favorites for 2018.
Aida isn't a perfect musical (you've already heard my thoughts on its sometimes-cheesy dialogue and its problematic male lead), but the sheer power of Constellation's intimate production reminded me of its strengths. The cast brought an empowered, almost spiritual vibe to the production, and its musical numbers ranged from moving ("Elaborate Lives," "The Gods Love Nubia") to just plain fun ("My Strongest Suit," "Another Pyramid." Shaya S. Simmons, Jobrari Parker-Mandar and Chani Werely were a trio to remember in 2018. – Missy Frederick
Shakespeare's As You Like It (Keegan Theatre) is a gorgeous play, but it's also a little wack, if you know what I mean. The story of Orlando's love affair with Rosalind, the daughter of the exiled Duke Senior, leaves the theatergoer with three profound, unanswered questions: (1) when Rosalind discovers Orlando in the forest, why does she disguise herself as a boy and try to talk him out of his love for Rosalind, instead of — well, you know what instead of I mean. (2) How is Orlando taken in by Rosalind's disguise? (3) How is it that at the end Duke Frederick returns his hard-won Kingdom back to Duke Senior? I wouldn't have expected to find my answers in a musical version of the play, but Shaina Taub and Laurie Woolery's work, performed beautifully at Keegan, suggested credible answers to two of the outstanding questions. Witty and fun, this treatment showed high production values, good voices, good music, and — as a special bonus, some thoughtful interpretation of this brilliant, flawed play. – Tim Treanor
Cat on a Hot Tin Roof (Baltimore Center Stage). Judith Ivey (yes, that Judith Ivey, of stage and screen fame) directed Tennessee Williams' claws-out classic as if the plantation setting were is a private zoo, populated most memorably by Big Daddy (David Schramm)  doing crude, goatish rutting motions when talking about sex, and his wife Big Mama (Charlotte Booker) fluttering and perching on her roost like a plump, exotic bird. Big Daddy and Big Mama may be old, sick, and, as they disparage, fat, but nobody's putting them in the corner anytime soon. Booker's a lace-buttressed battleship, bossy and sweet and while her mannerisms may seem a little foolish, Big Mama's nobody's fool. And her twin in stubbornness and sheer will is Schramm's Big Daddy, who with his appetites and earthiness resembles Falstaff with a side of grits. His Big Daddy is larger-than-life, with almost epic toughness and ruthless honesty on the outside, but his insides are larded with lies. So boldly do Schramm and Booker embody Big Daddy and Big Mama that they steal the play away from the younger folks, particularly Maggie and Brick, whose unhappy histrionics pale in comparison to the fire and brimstone of their elders. – Jayne Blanchard
Moira Buffini's comedy Dinner (4615 Theatre Company) is a fine, fun play, though not the equal of Buffini's Handbagged — but what made the play memorable to me was the beautiful job the company did with it — evidence that once again a new, talented professional company has found fertile ground for growth in the DMV area. – Tim Treanor
What can I say about Hamilton that hasn't been said already? It is the best musical, in my view, ever written. But more than that: it can be a tool which can help us recover our American political life. – Tim Treanor
Another play which had two sets of actors play characters at different stages of their lives was Moira Buffini's hilarious Handbagged, which received an excellent production at Round House Theatre. Susan Lynsky played Margaret Thatcher and Beth Hylton played Queen Elizabeth II during Thatcher's term in power; Kate Fahy was Thatcher and Jennifer Mendenhall the Queen in the years afterward. Buffini's droll and subtle wit is periodically interrupted by first-class 4th-wall-shattering buffoonery involving John Lescault and Cody LeRoy Wilson in multiple roles. I giggled and snorted so much watching the production that I didn't realize until later how much I had learned about Great Britain in the eighties from the show. – Tim Treanor
Studio Theatre's arresting production of Steven Levenson's If I Forget follows a fractured family's reckoning with their Jewish history, offering a combustible mix of religion, politics, trauma, and moral failures into two-plus hours of searing emotion and dark humor. The play asks "Is the past a warm blanket – or a millstone around our necks?" Rather than offering simple answers, the play reminds audiences that we're mostly stuck with imperfect moral compromises, simply trying fight another day. It left me rattled to the core, and I'm sure I'm not alone.- Ben Demers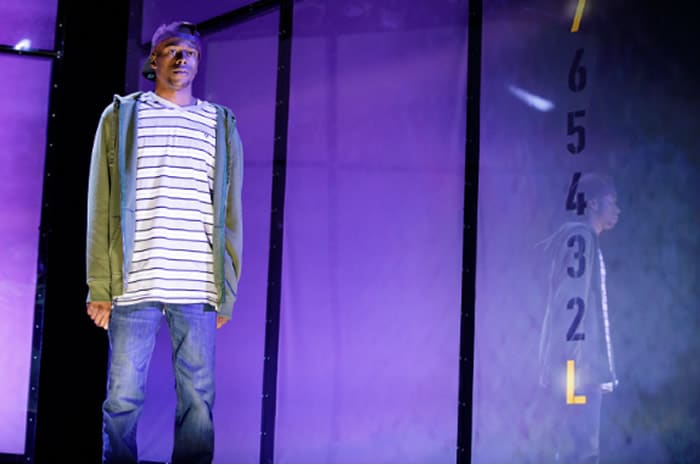 Justin Weaks has had a busy Fall (Gloria, Long Way Down, Gem of the Ocean), but perhaps none more demanding than the solo play Long Way Down, (The Kennedy Center) based on the novel by Jason Reynolds. Weaks plays teen Will, taking an elevator down from his family's apartment on the 8th floor. He is headed for the street, to kill the man he thinks is responsible for killing his brother. But this elevator has 6 stops, each with the ghost of someone who knows how he feels and what the outcome of his action will be. "The Rules weren't meant to be broken. They were meant for the broken to follow," Will tells the audience. Weaks plays all roles, from a girl from his childhood, to men from his family and the neighborhood with stunning clarity. Black out as Will steps out of the elevator.  Will he follow the rule? Or break it. – Lorraine Treanor
Passion, (Signature Theatre) Stephen Sondheim's bizarre love triangle set in 19th-century Italy, was a gorgeous piece of work, elevated by brilliantly effective staging and set design, superb vocals and a tremendous performance from Natascia Diaz in the role of Fosca—one of musical theater's most enigmatic creations. Diaz was mesmerizing as she turned Fosca's obsessive derangement into a heartbreaking pieta. – Roy Maurer
Synetic Theater has a solid track record of award-winning shows with outstanding choreography and design, beautifully executed.  It is perhaps best known for its many "silent Shakespeare" productions.  Sleepy Hollow was one of its trademark wordless offerings and its first foray into American literature.  Perfectly timed for Halloween, it featured a dark but emotionally-satisfying reimagining of the classic tale.  In the original, Ichabod Crane is a nerdy schoolmaster who loses out to a macho hero who presumably impersonates the Headless Horseman to scare Ichabod away from their mutual love interest.  Here, Ichabod is cast as a he-man/bully, who is deserving of punishment because of his merciless beheading of a Hessian soldier during the Revolutionary War.  The Headless Horseman has become a tragic figure, doomed to haunt and take vengeance on the living.
A suitably spooky atmosphere generally prevailed, including a macabre chorus line of disembodied heads, but the show exhibited a wide emotional range.  A boisterous tavern scene included a brawny dancing style reminiscent of "Seven Brides for Seven Brothers."  Most memorable was the tenderness between the Horseman and his horse, whose spirit (mesmerizingly danced by Maryam Najafzda) was elevated to one of the major characters. – Alison Drucker
Sweat (Everyman Theatre). Lynn Nottage's brutal, brilliant sucker punch of a Pulitzer Prize-winning play points out, America's current state of intolerance and white entitlement began long before the Trump administration. In Sweat, she identifies our troubles as roiling and festering between 2000 and 2008, from the beginning of the end of American factory workers, through the George Bush years to the Great Recession of 2006 and its pitiless fallout. Nottage suggests in her far-reaching, thematically and emotionally ruthless drama that racism and xenophobia has been knitted into the fabric of our nation's history since its scrappy beginnings. Everyman Theatre, under the lucid direction of Vincent M. Lancisi, brings all of Nottage's themes, aspirations and bruisingly real characters to life in a production that is at once hard to watch and impossible to look away from. – Jayne Blanchard
We may think of Samuel Beckett as an abstractionist or — I hate this term — an absurdist (it is life that it absurd, not Beckett) — but these descriptors are the least important part of him. He is, at bottom, the unsentimental poet of loneliness, and his characters are at every moment engaged, usually unsuccessfully, in putting off the "endless no." We got an exceptionally strong dose of this in SCENA's The Beckett Trio, consisting of Footfalls, Not I and Rockaby, all of which featured the remarkable Nanna Ingvarsson. In each of these small plays (the evening went only one hour) Ingvarsson showed us the meaning of a life without meaning, connecting us with humans who had lost all connection with each other. Her performance in each of these fine pieces was memorable, but she was incandescent in Not I, which allowed us to see only her disembodied mouth in a field of blackness. Harlan Ellison had a good phrase to describe the frustration of human communication — "I have no mouth, and I must scream" — but in Not I, there is the mouth, and nothing else. – Tim Treanor
Solas Nua (helmed by Artistic Director Rex Daugherty) is a group devoted to promoting contemporary Irish culture.  Here, the company creatively interpreted its mission and chose the perfect location to present its results.  The Frederick Douglass Project meshed monologues from Deirdre Kinahan's "Wild Notes" with excerpts from the works of famed abolitionist Frederick Douglass, whose writings describe visiting Ireland in the 1840s, perhaps one of the lesser-known facts of his life.  This merger explored parallels between American slavery/racism and the Irish experience of colonialism/ethnic discrimination under British domination.  (For example, the script discusses how, at the height of the Potato Famine, foodstuffs grown in Ireland were systematically exported to England rather than shared with the sharving Irish populace.)
The Project aimed not only to illustrate the commonality of oppression in different parts of the world, but also over time periods, connecting the past with the present by incorporating references to contemporary events.  These connections were effectively highlighted by setting the production at the D.C. Wharf, on a pier jutting into the Potomac within sight of Frederick Douglass's Cedar Hill home.  The location on the water conjured up visions of both the Middle Passage and the Irish migration to the U.S., while the audience remained aware of the proximity of the seat of power with which we still struggle today. – – Alison Drucker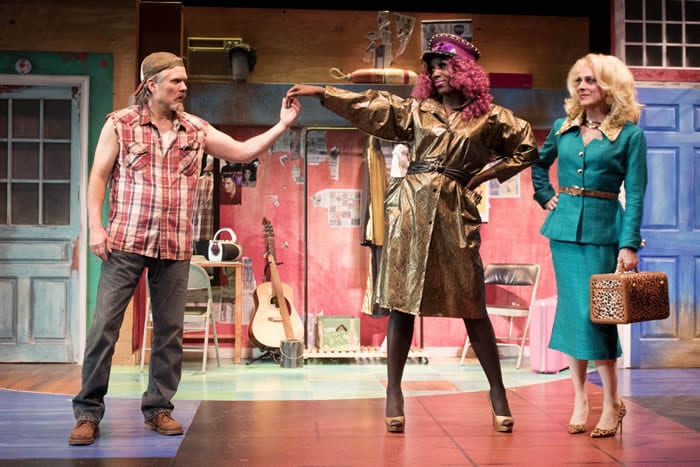 The Legend of Georgia McBride (Round House Theatre). The fierce and funny The Legend of Georgia McBride is playwright Matthew Lopez's mash note to drag queens all gussied up with sequins, sentiment and spectacle. Rick Hammerly trumps his brilliant turn as Hedwig in Hedwig and the Angry Inch at Signature Theatre way back when playing Miss Tracy Mills,  a classic southern belle who makes her demure entrance in a trim traveling suit that would befit Blanche DuBois in the early scenes of A Streetcar Named Desire.  Hammerly's dizzying interpretive dance to the disco version of "MacArthur Park" holds you in thrall, as does the twerking Rexy (Dezi Bing)—short for Miss Anorexia Nervosa–Miss Tracy's partner in pantyhose, who's as shellacked in vodka as Tracy is in Pan Stik, and drag queen baby Casey (Zack Powell), who turns into a boot-scootin' sensation under Miss Tracy's generous tutelage. – Jayne Blanchard
Nat Turner in Jerusalem at Forum Theatre with its spare set and minimal props, revolved around two main characters,  Nat Turner played by Jon Odom and lawyer Thomas Gray played by Joe Carlson.  They both did a terrific job of conveying the clash between the idealist, visionary rebel slave leader and the pedestrian, compromised white lawyer representing him.  Odom's Turner was hours from being hanged and was beyond life and death.  He glowed with an inner conviction that was unshakeable.  Carlson's role at that point was to write out Turner's "confession."  This required Carlson to somehow connect with Turner in a way permitting the lawyer to understand him and his worldview.  His efforts to find some sort of common ground in the suffering of whites and blacks were not particularly successful, given the contrast between what Turner and the slaves had suffered as the chattel of white society and whatever happened to the whites as a result of his uprising.  Ultimately, Jose Carasquilo's direction powerfully showed a connection and contrast between the two men as they sparred with each other, exploring Turner's motives and the terrible world the slave system created.  The play was one of the most riveting I saw all year.  We will truly miss Forum Theater. – Thomas Holzman, Gary Maker Award winner
The Contemporary American Theater Festival had an especially good year in 2018, with five of its six shows well beyond satisfactory. But of these shows, one will remain seared in the memory of those who saw it — Amy E. Witting's The House on the Hill, a heartbreaking story about an unspeakable event, told from the point of view of two adults, years after the event, and two teenagers, in the days leading up to the event. The adults and the children are the same people, of course, which allows us to see how they were changed by that horrible day. Witting's fine writing was supplemented by four brilliant performances, including one by Joey Parsons, who — unless you make the annual pilgrimage to Shepherdstown — is the best actor you've never seen. – Tim Treanor
The Marriage of Figaro (Washington National Opera) is an easy favorite, but who could have predicted that the luminosity of singing, musicianship displayed in the orchestra, and spot-on casting and acting of the ensemble would shoot off like a display of brightly colored fireworks?
Dance is a metaphor for the whole production. Mozart has indicated this right from the get-go with Figaro singing about wanting to out-fox the crafty Count in Se vuol ballare. "If you want to dance, good sir, I'll mark the time."
All the singers have created distinctive physical styles of movement for their characters so that the whole opera indeed moves like a complex ballet.  Figaro never seems to stop bouncing from a sheer life force – putting me in mind of no other than AA Milne's Tigger. The Countess glides languorously, swan-like, so that nothing ever seems to touch the ground. Susanna moves through the various partners thrust upon her in a kind of nimble gavotte. Cherubino swoons and slouches like a lad one moment then, in disguise, prances precariously like so many teenage girls who've not yet mastered balancing in high heels.  Marcellina spins like a top, except when she and Susanna get into the most delicious cat fights, swatting at each other." – Susan Galbraith
Cheek by Jowl and The Pushkin Theatre Moscow have brought to Washington a great Measure for Measure. The experience spoke straight to the heart of what we have been living in the nation's capital. The production contained such visceral power and emotional truth that there were audible gasps and quite a few tears from the audience. No one should miss this production.
Never has the play spoken so directly to an audience in my experience. When Angelo asks the nun to lay down "the treasure of [her] body," he then meets her shocked and angry response with, "Who will believe you, Isabella?" and later, "My false outweighs your truth."
It was as if we were reliving the male bastion of power close ranks during the testimony of Christine Blasey Ford and the shameless shambles in the Senate that turned the Kavanaugh proceedings into a circus. – Susan Galbraith
The Scottsboro Boys. Signature Theatre has given us a musical for our times.  Smart. Searing. Dangerous. Funny. Provocative. And – as it continues to expose and engage us in a conversation about race – it is immensely moving. And it's all wrapped up in a Kander & Ebb musical entertainment. Giving double meaning to the term "black comedy" and like one of its more macabre songs about the electric chair, the musical delivers high-power voltage."
The original production on Broadway was flawed but courageous. I didn't understand the unfavorable reviews then, but this made Signature's show even more powerful. I went to see the show three times.  And it just kept getting better. – Susan Galbraith
I was blindsided by the quiet power of this play. Sarah DeLappe's The Wolves, (Studio Theatre) about a pack-circle of girls on a high school soccer team shaping one another in ways they don't yet realize during a series of Saturday morning pregame warmup sessions was deceptively moving.
The play was directed with choreographed precision by Marti Lyons and the entire cast was solid, some of the girls even unforgettable. The audience cruises along over the dippy, fledgling shorthand the girls share, the yaps and squeals, put downs and burns, until it's realized that what is being witnessed is nothing less than the act of maturation in slow time-lapse. – Roy Maurer
Synetic Theatre may have had to temporarily relocate to Georgetown University for The Wonderful Wizard of Oz but the movement-based company lost none of the theatrical magic and whimsy of the story or performances. Lead by Emily Whitworth as a plucky Dorothy, Synetic made the journey to Oz a feast for the imagination, filled with exciting encounters, fantastical Ozians, and her delightful sidekicks we have all come to know and love.
From my review: "I commend the adaptors for taking the sweeping and varied adventures of Dorothy and Toto and crafting this delightful show into an economical 100 minutes that encapsulates the journey to Oz, including parts of the story we know from other stage and film versions while including less familiar episodes from the 1900 novel that add depth and variety that is wholly refreshing." – Jeff Walker
Seeing Two Trains Running at Arena Stage marked the halfway point of my consummation of playwright August Wilson's Century Cycle. It's not perfect—it runs long and still somehow ends prematurely—but it was a powerful production all the same, animated, humorous, and buoyed by strong performances from the ensemble. – Roy Maurer
What were your favorite shows of 2018?
You might enjoy Our Favorite Stage Moments of 2018
Related