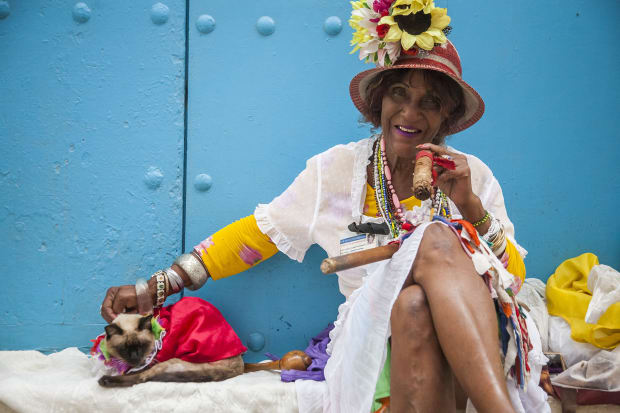 Havana, Cuba
Photographer: Anna Kucera
It's no secret Havana is one of the top destinations for anyone with an interest in street photography. With its crumbling architecture, 1950s retro cars and colourful characters, Havana has striking visuals around every corner.
My husband and I came across this woman – posing with her cat and that massive cigar – among the vendors, artists and musicians who line the streets of the tourist areas.
Shot with a Canon 5D Mark IV, 24-105mm lens, f5, 1/200 sec, ISO 1000.
---
Natadola Loka, Fiji
Louie Douvis
I was on holidays on the Coral Coast of Fiji with my family when I noticed from our hotel's first-storey balcony some commotion in the surf outside. I ran with my camera downstairs and onto the beach to find a group of Fijian surfers training for their upcoming national titles.
I really like the look of the surfers' different shapes, sizes and poses. I wanted to capture a crowd scene but to also single out the individuality of each surfer, as they were all so unique. Natadola Loka Beach is one of the only beaches in Fiji that surfers can paddle out to; most breaks require a boat trip from the mainland, making them difficult for local surfers to access.
Shot with a Canon EOS 1DX Mark II, 70-200mm lens, f6.3, 1/1000 sec, ISO 125.
---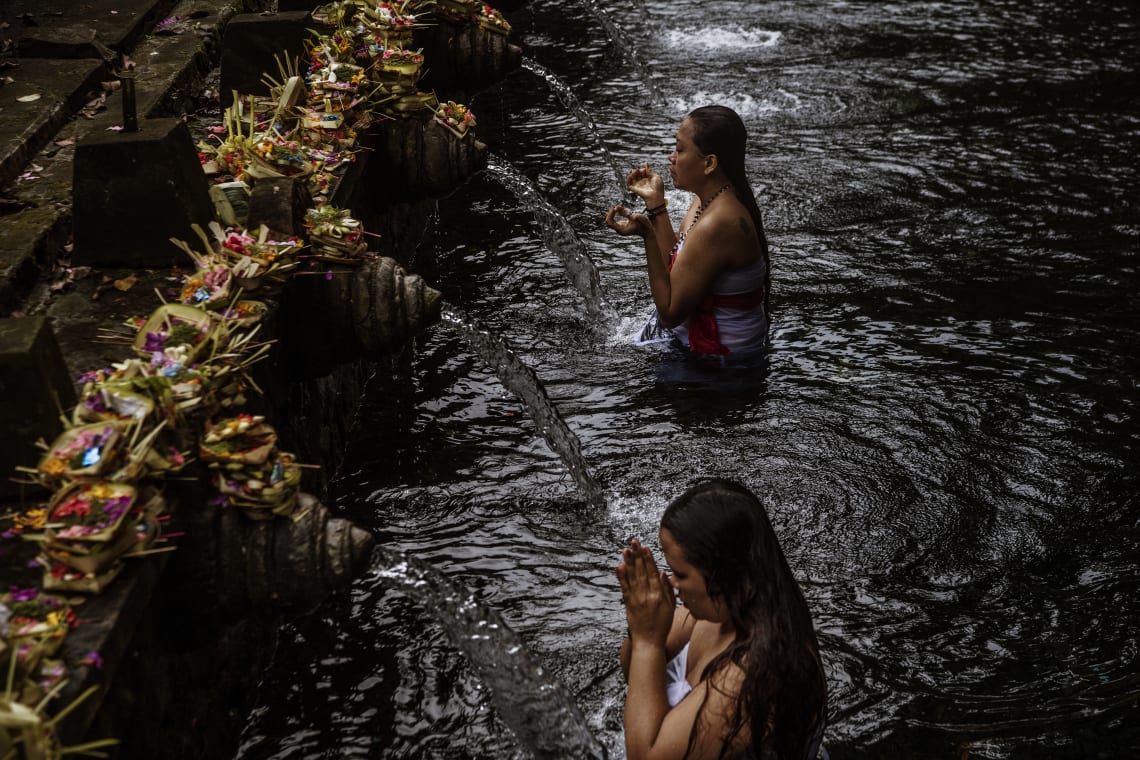 Tirta Empul, Bali
Photographer: Louise Kennerley
I was fortunate to visit the Tirta Empul Temple on a quiet morning; the sounds of spring water and the smell of incense made this a perfect retreat from busy Seminyak. The two Balinese women I photographed were going through their rituals of purification in the holy water.
Balinese Hindus have been visiting this temple, which is built on a bubbling spring that becomes the Tukad Pakerisan river, for more than 1000 years.
Shot with a Nikon D5, 24-70mm lens, f5.6, 1/500 sec, ISO 320.