US President Donald Trump travels from Ireland to France this morning to join other western leaders and World War II veterans for events marking the 75th anniversary of the D-Day landings. 
Mr Trump is also due to hold informal talks with the French President Emmanuel Macron following today's commemoration event in Normandy. 
President Trump and the First Lady Melania Trump will to return to his hotel and golf resort in Doonbeg, Co Clare later day to attend a dinner hosted by the White House Chief of Staff Mick Mulvaney.
Ireland's Ambassador to the United States, Dan Mulhall and the Government's special US envoy, Fine Gael TD John Deasy, will be among the guests.
Meanwhile, Donald Trump Junior and his brother Eric joined locals in a number of bars in Doonbeg, shortly after 10pm last night.
Eric Trump praised the village of Doonbeg and its locals as 'the best neighbours in the world'.
Eric poured a pint at Madigan's bar and addressed the bar: "So guys, just a little cheers to everyone in Doonbeg, we love you guys so much, thank you for treating us like family".
"We love everything about Doonbeg, we feel like home here, just great to be with each and every one of you. Thank you for the support guys, thank you."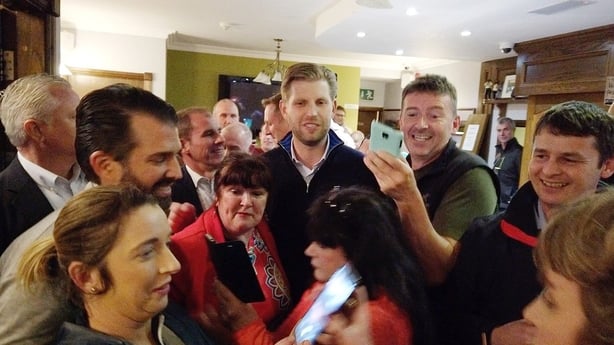 The brothers visited Morrisey's, The Igoe Inn, Comerfords and Tubridys and bought drinks in each for everyone and posed for selfies.
Additional reporting PA