The surf pool race is heating up once again. Literally. DSRT Surf, a new, five-acre surf pool being developed by Desert Wave Ventures utilizing Wavegarden's Cove technology is coming to Palm Desert in 2021. The entire development will span 18 acres at Desert Willow Golf Resort, which is owned by the city of Palm Desert, and will include a "Surf Center," with retail and restaurants, two hotels with 150-275+ rooms and 40-88 Villa units for sale. It will be open to the public.
John Luff has been in the surf park space for over a decade in various capacities. A few years ago, Luff met prior Solana Beach mayor and investment manager Doug Sheres. The two formed a friendship after surfing together regularly for a year. "We started talking about what we could do in our backyard," Luff said. "We formed a partnership and started a company to develop man-made surf destinations. Doug had developed real estate, had a political background and access to capital."
Turns out these three things are useful when it comes to making surf pools, 'cause they're not cheap. In the planning stages for two years already, and planning to break ground at the end of 2019, DSRT Surf is expected to cost somewhere just south of $200 million dollars once all the amenities are built out.
As Sheres said, "The most surprising thing (about the process) is essentially just how difficult it really is. It's not like building a house or putting a pool in your backyard. There is so much complexity to developing surf pools. There are intricacies to the regulatory and political webs and so many competing pieces of the overall puzzle. And on top of all of that, the costs are unbelievable — easily two to three times what is often quoted in the media. It's mind boggling when you really dig in."
View: Live BSR Surf Cam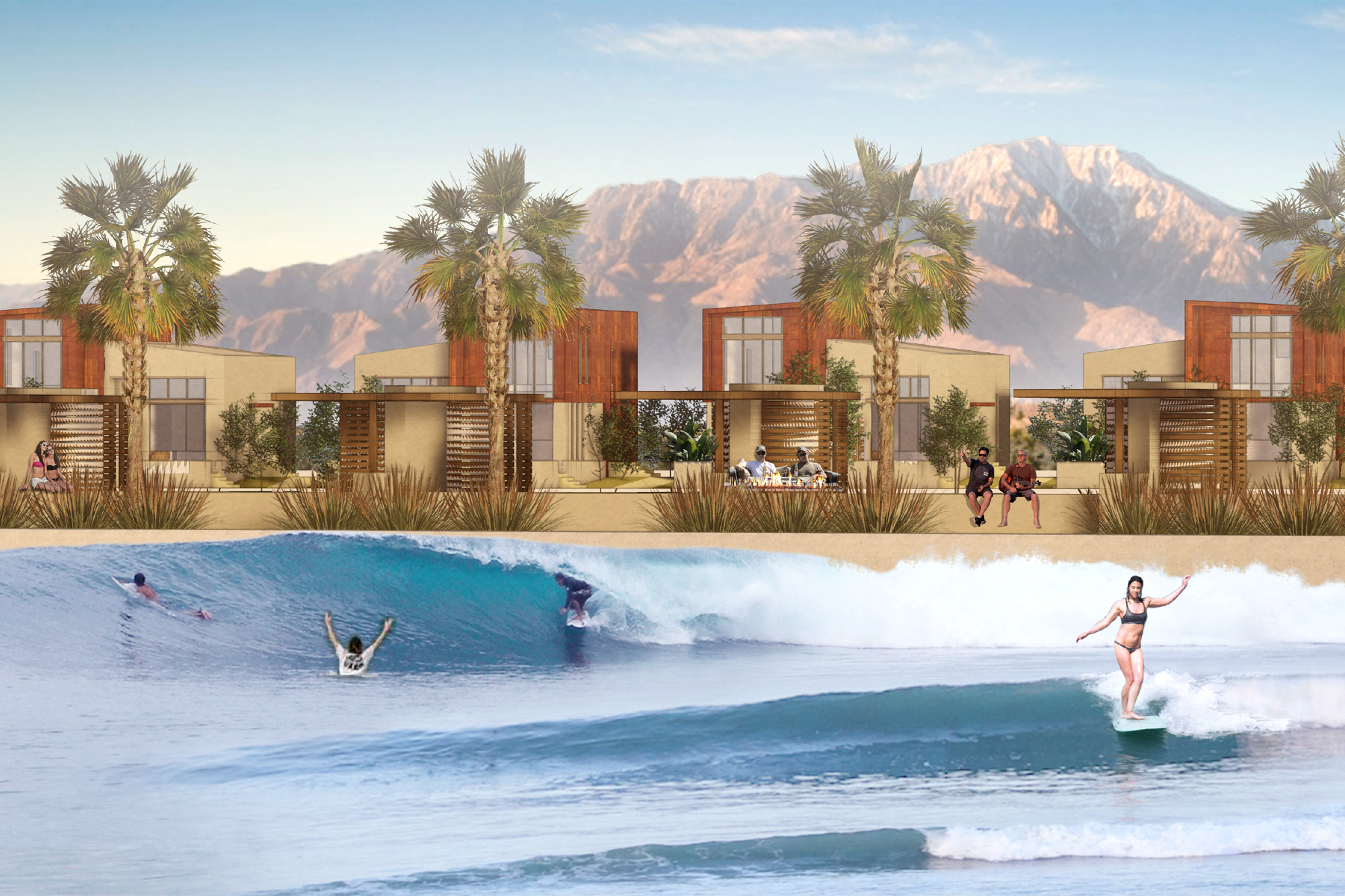 So, why build a surf pool? "I got involved in this project because I want to surf as many good waves with friends and family as I can and while I still can," Sheres said. "It sounds a little corny, but there is real magic in building a life around surfing and chasing good waves around the world. Recreating even a bit of that magic through surf pools is more than enough motivation to do this."
Plus, it's a business. Businesses exist to make money. And, according to Luff, a surf pool on its own would be tough to make work, economically, "unless it was in the perfect location." But once you layer in the additional income from hotels, restaurants and retail, things start making more economic sense. Especially when you factor in the proximity of 25 million people living within a few hours drive.
It works both ways, too: "The surf pool will have legs and generate a lot of revenue," Luff said. "And without the surf pool, the development itself wouldn't be as attractive."
The call to go with Wavegarden Cove technology was another business decision. "Is it the best air wave?" Luff said. "No. But do they have the most well-rounded model? Yes. I think the Cove has proven, dollar-for-dollar, that it's best on the return. And we will be open to the public, but the focus will be on a slightly more premium experience. And people staying at the resort would get priority, but anyone could come — we want to make it inclusive, so all levels of surfers can come and feel like they got enough surf in to be satisfied."
Read More: WSL Shelves Plans for Florida Wavepool
Sheres and Luff partnered with long time surfer Don Rady and other investors, and brought on some high-level surf ambassadors, including the Hobgood brothers, Josh Kerr and Shane Beschen.
"I can be a skeptic at times," said CJ. "But man, I have been impressed with this team. I've been learning so much and it's been hands on with Josh, Shane, Damien and myself. Pretty like-minded, wanting to create a family atmosphere — while keeping a blank canvas for this surf pool lifestyle to go in."
"I got involved with the DSRT surf guys when they approached me with what they had been working on for the last two years and I instantly was excited," said Kerrzy. "I got involved because they have every base covered with the most knowledgeable team you could have in place to get one of these projects off the ground. Nothing seems easy in California, but with this team we have the best shot of making the dream a reality. My role is to help advise on making this the most fun surf-friendly facility we could bring to the public to enjoy with family and friends."
And while DSRT Surf has the exclusive license to Wavegarden tech in the region, there are rumored to be at least three other surf pools in the planning stages in the greater Palm Springs area. Kalani Robb and Cheyne Magnussen's project, utilizing an undisclosed technology, is coming to the old Wet 'N' Wild waterpark location in Palm Springs in 2020. Kelly's team are still researching possible locations for another KS Wave Co. And another very high-end resort/surf pool is reportedly being planned with American Wave Machines (Waco) technology.
And while the surf pool race is clearly heating up, it's certainly has had its ups and downs. BSR closed early in October 2018 due to the presence of possible brain-eating amoeba. (They've since installed higher levels of water filtration and have been open all spring.) Around the same time last year, Surf Lakes in Yepoon, Australia suffered a plunger break and had to reconstruct. (A few weeks ago, they announced Phase Two testing was close.) A month ago, the WSL realized that the water table was too high for their multi-million dollar Florida surf pool and had to shelve their plans.
"I think the dam is finally starting to break a little," said Sheres. "I don't think it will really start to flow any time soon. We are obviously excited and optimistic, but there are still real questions about viability and absorption. A few surf pools will need to be built and succeed before people will spend the time and spend the money to do more."