By Rama Gaind.
'Peace, serenity and solitude' is the mantra at the Pimalai Resort and Spa in Thailand … tucked away on the tiny island of Koh Lanta facing the Andaman Sea.
There's an open invitation to this luxury resort that's surrounded by nature so you can escape the stress and strain of everyday life. This is where you enjoy an exclusive and luxurious hideaway on the pure shores of the Andaman Sea.
This hillside resort is accessible only via private speedboat. It's two kilometres from the Khlong Chak Waterfall. Now you've discovered Koh Lanta's best-kept secret nestled within the privacy and tranquillity of surrounding mountains, there's promise of a lavish hideaway for those seeking exclusive island escapes in southern Thailand.
At Pimalai, the stunning 900-metre beachfront and an approximately 40 hectares of paradise will rekindle your love for nature amidst lush tropical forests and the endless Andaman waters. It's easy to find you way down to one of Thailand's best beaches: Kantiang Bay
This spectacular island retreat allows you to get away from the stress of the city, reconnect with nature and rediscover your inner selves.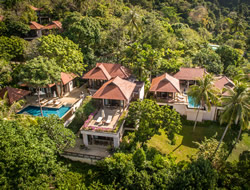 A secluded island paradise set against a backdrop of lush tropical forest, Pimalai Resort and Spa Thailand sits alongside a vast stretch of sandy beach. With a superb choice of eight fantastic restaurants and bars, a spa, two stunning infinity pools, tennis courts and a dive centre, this is truly a world apart.
Paddle in the cooling water along the bright white sandy shore with a gentle sea breeze in your hair. Then join a daily dive tour and witness the vast array of marine life from sea horses and ghost pipefish to huge manta rays.
Blissfully secluded, away from the tourist bustle of southern Thailand's better-known islands, this award-winning resort provides a unique opportunity to detox your mind, de-clutter your thoughts and break free of your daily routine.
Get rejuvenated
Pimalai Spa offers a wide range of rejuvenating treatments including massages, scrubs and wraps, plus an outdoor jacuzzi and steam room. If more activity is your preference, then you can revive your senses with a workout in the fitness centre or Muay Thai boxing ring, work up a sweat on the tennis court or plunge into a choice of two infinity pools.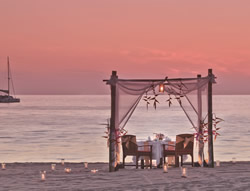 For urban escapees in search of a truly other-worldly experience, the PADI-certified Gold Palm Dive Center is open all-year-round. Here you can discover a dazzling diversity of tropical marine life including manta rays, sea turtles and even whale sharks. Mangrove tours, sea kayaking and island excursions also showcase Koh Lanta's magical marine environment.
Gliding across the ocean waves on a private boat, an island-hopping adventure is an ideal way to refresh one's mind and spirit. The Talabeng Scenic Cruise & Koh Ngai Fun Day visits a collection of island gems in the Andaman Sea including Koh Talabeang, Koh Ngai and Koh Chueak, with plenty of opportunities to swim in the crystal clear waters, snorkel over colourful coral reefs or sunbathe on secluded sandy shores.
Back on dry land, a series of activities, including forest walks, cultural tours, cooking classes and bicycle adventures around Koh Lanta allows visitors to delve deeper into this exquisite island's rich local heritage. Peace and privacy is on the cards with the spectacular accommodation including a choice of beachside villas and hillside pool villas.
Pimalai Resort & Spa
Pimalai's long-serving general manager Franck de Lestapis says, "it's not just the rich and famous who need to relax and recalibrate; everyone should take the time to escape the heat of the city and reconnect with nature – and themselves. Whether you're in search of a solo sojourn, a couple's retreat or a rejuvenating break with family or friends, Pimalai will help you find your perfect hideaway".
Koh Lanta's first five-star resort, Pimalai has been redefining luxury hospitality on the Andaman Island. Since it was launched almost two decades ago, the award-winning property with no immediate neighbours is a serene sanctuary. Spend action-packed afternoons out in the cerulean sea scuba diving, snorkelling or simply relaxing on a sunset cruise. A smattering of local bars and restaurants line the beach, but its Pimalai's onsite eateries that tend to steal the show.
In keeping with Koh Lanta's low-key, laid-back mindset, Pimalai Resort & Spa is an authentic Thai island experience where you're away from the spotlight in your very own private sanctuary.
DETAILS BOX
Pimalai Resort & Spa
99 Moo 5 Ba Kan Tiang Beach
Koh Lanta, Krabi 81150
Thailand
E: [email protected]
T: +66 (0) 2320 5500/+66 (0) 75 607 999
W: www.pimalai.com
Package details
For guests who want an exclusive hideaway on the pure shores of Koh Lanta, the Island Discovery Package includes a three-night stay in a choice of accommodation, plus daily breakfast, airport transfers, a three-course dinner at the signature Seven Seas Restaurant, an island excursion with a picnic lunch, free Wi-Fi and unlimited use of non-motorised water sports, the tennis court and fitness centre. Rates start from THB24,150 net (approx. US$770).